While it's cold outside, it's the perfect time to curl up with your little ones and read a story. Valeri Gorbachev's
Turtle's Penguin Day
is a great way to spark children's imagination.
Turtle is so excited by the book about penguins that his dad reads him at bedtime that he decides he wants to
be
a penguin. So the next morning, he creates a penguin costume, grabs his book, and heads for the schoolbus. His kindergarten classmates are thrilled. They all want to be penguins too! Turtle shows his book to his teacher, and all day long he and his classmates do as the penguins do--they slide down the slide on their bellies during recess, form a waddling conga line at music time, and snack on goldfish crackers. It's a super-cool penguin day! This delightful picture book from Valeri Gorbachev is a perfect blueprint for teachers (and kids) to plan penguin days of their own.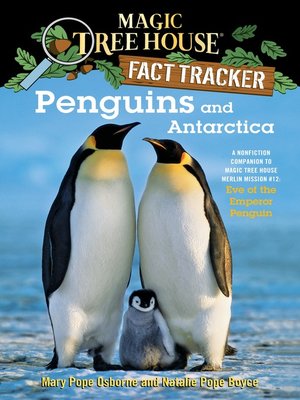 Learn more about penguins in
Fact Tracker Penguins and Antarctic
a
When Jack and Annie got back from their adventure in
Magic Tree House #40: Eve of the Emperor Penguin,
they had lots of questions. What do penguins eat? Why do they huddle together in groups? Who won the race to the South Pole? What happens at a research station in Antarctica? Find out the answers to these questions and more as Jack and Annie track the facts. Filled with up-to-date information, photos, illustrations, and fun tidbits from Jack and Annie, the Magic Tree House Fact Trackers are the perfect way for kids to find out more about the topics they discovered in their favorite Magic Tree House adventures.