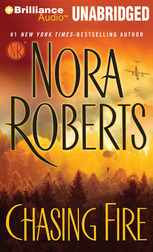 For readers who enjoy listening to their romance with a big helping of adrenaline will love New York Times-bestselling author Nora Roberts's latest novel,
Chasing Fire
. With great respect for smoke jumpers who consistently risk their lives to fight immense forest fires, Roberts only gets more exciting by intertwining love and adventure.
In Missoula, MT, Rowan Tripp, an avid fire fighter who has been battling the forest fires of Montana since she was 18, heads up the "Zulies" group. She is still troubled by the loss of Jim Brayner, her partner who lost his life last season. New to the group this year is Gulliver Curry, who has earned the name "Fast Feet" for his speed and impressive skill. Rowan is captivated by him but must suppress her romantic feelings for the safety of the group. She has one rule: Never get romantically involved with someone she works with.
Rowan and Gulliver grow closer as the team fights furious fires from Montana and Idaho to California and Alaska. But when Jim's girlfriend starts stirring up trouble, even insisting that Rowan is to blame for her boyfriend's death, Rowan is thrown off balance. Plus, a mysterious villain is sabotaging the group with vandalism and the threat of arson.
While Rowan knows that she cannot get romantically involved with Gulliver, she desperately needs someone she can lean and rely on, and she is in danger of breaking her own rule. And when it becomes clear that someone is truly out for revenge, she finds that she needs Gulliver's help and support more than she ever imagined she would.